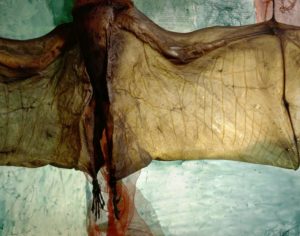 Commissioned by the Untitled (now Site) Gallery, Sheffield 1992
This exhibition was Holland's first major solo show, occupying all four of the gallery's exhibition spaces. Collage pieces were shown alongside photographic work; however, photography played an increasingly important part.
'Tracey Holland's recent work relates to a long line of collage and assemblage art that stretches from the Dadaist Schwitters through Cornell to Keinholtz and Rauchenberg.'
'Her show comes across with the arresting force of some un-heard of obsession or embarrassingly weird perversion. Dead reptiles, dried and faded flowers, a glass eye, old board games, scraps of old books and letters are arranged and photographed to form an enchanting late 20th century revival of memento mori still-life'
Robert Clark, taken from Guardian Review of show.
Three Cornered House Installation
The installation in gallery four 'The Three Cornered House' was an amalgamation of these techniques. In the centre of the room hung the three large transparent photographic panels, each indicative of earths division into land, sea, and air, the inhabitants, cross over points and movement between these layers. Flying fish, snakes, frogs, birds and lizards inhabit the images. Part of the fascination with birds and fish has always been their 'other world' quality. Holland says, 'I used to go fishing when I was a teenager; it was the thrill of catching something from this other world, so foreign and exotic and being able to view that which is usually unseen. Creatures that moved between these two worlds held even more interest, especially those which underwent some kind of metamorphosis.'
The panels on the surrounding wall contained many rows of bird's wings of one species or another surrounded and held in by hair. The panels were from a disused cutlery factory, all pale blue, which contrasted with the black, fading to white, of the human hair. The wings bring with them associations of flight, freedom and this spiritual potentiality contrasts strongly with their now earthbound and entombed state. Hair and associated references to it's cutting is often used in Holland's work. Scissors, blades, knives etc. sit along side fishhooks, floats, lead weights and feathers. Cut hair has no value, it's almost repulsive, but historically great importance has been attached to its collection or destruction. Hair is a unique quantifier or measure of time and in the work it becomes a symbol of control and in it's cutting, of liberation.
View images from Mortal Remains show