Confluence; Crossings & guiding Lights – show at Grimsby Minster opening July 2nd
Grimsby Minster

 

      July 2nd  to   August 6th   –  Preview/meet the artist 6.00 – 8.00 5th July
Hull Minster  

             August 11th  to  September 5th    – Preview 10th August

Image from 3-screen filmwork Confluence
This new series of film and photographic work by Tracey Holland will be on show at Grimsby and Hull Minsters this summer. It focuses on ever-changing borderlines, the transience and continual ebb and flow of the estuarine environment, a terrain of intervention, long rivers, histories and memories. By using film, photography and audio, the work aims to enhance a sense of place for people on either side of the Humber, united rather than divided by the estuary, highlighting its defining characteristics, and identifying how closely rooted and formed by place we are, and how place and identity aid our sense of belonging somewhere. Histories and memories are rooted within a particular place, and Holland's new series of works is a contemplation and visualisation of this psycho-geographic sense of place. These areas reflect transience, liminality, migration, places and lives lived here, defined by, or lost to the water. Place enables a deep and dynamic rooting of our own histories and memories within it, if you live for long in an area, then the area inevitably begins to live within you.
The 3-screen film Confluence looks at the dynamics of the Humber, and follows the paths of the major rivers that feed into the estuary, and the nature and power of water flow. Confluence examines the water realm of tidal ebb and flow, and the amazing estuarine balance or confluence; the river flow out counterbalancing the incoming tides. The 5-screen installation
Sunk Island reflects the historic actions of our control of water; dykes, sluices, and tide water held back, and its silt dropping to form layers, eventually becoming new terra firma. The shifting geographical boundaries of Sunk Island create a truly liminal, ever changing, dynamic and potentially deadly environment, a  place that embodies the notion of the transitory, with something of the uncanny about it, with its lack of distant history and temporary, man-made nature.
The Ice House is a single screen film work, based around a collection of photographs of hands from those who manually work or worked in the Humber area and aural recollections of both filleters and ex-fishermen. Grimsby's now derelict former Ice factory is used as symbol of the town's radical changing social and economic history, including exploitation, dangerous work, sea and ice and cold. the work examines how the profession of fishing shapes those who work out at sea and creates people who are extra-ordinary, who become a 'breed apart'.
House of Breath – Guiding Lights is a single screen moving image work.  It begins as a walk through a grass ridge until we reach the sea's edge; this journey through the landscape is intercut with the memory it engenders. The film reflects on invisible energies found in different environments and their manifestations. These spaces, sometimes domestic, sometimes internal and sometimes ritualised relate to us and also, the infinite, and the human need to find psychological refuge in these familiar places and spaces.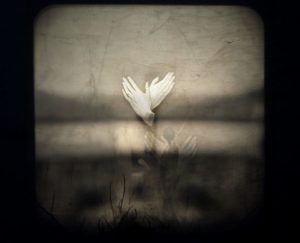 Film still from House of Breath – Guiding Lights
Unknown Men, Unknown Women are a set of constructions containing catoptric (distorted planar) photographic images which become perfectly reformed when reflected in a mirrored globe at a cylinder's base. They are named after a series of boxes full of images in Grimsby library archives labelled 'Unknown women' 'Unknown men' and 'Unknown places'. In being described as unknown, it asked questions about identification and recognition; these people who had inhabited this district were, and are, unknown – but only to us.
Shape of water is photographic image series exploring aspects of the house, storm, islands and liminal areas. The 'landscapes' are constructed from seeds of bulrushes and reeds, images of stars, and tiny roots, projected and then photographed, turning the micro into the macro. They suggest storms and flowing water, flood, dwellings transformed, turning normal into the strange.
No 2 from Shape of Water series. 35 x 45 in. photographic print
This work has been funded by Arts Council England 
Our Big Picture; Art in the Minster
Tracey will be working with Our Big Picture in providing a public and schools engagement programme in Hull and Grimsby Minsters.