Confluence   
Crossings and Guiding lights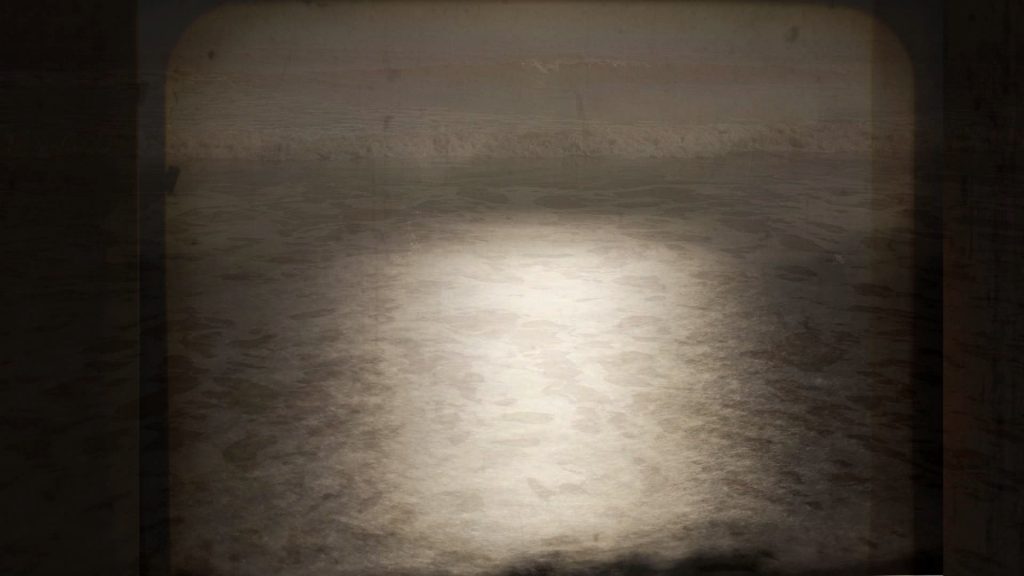 A series of six commissioned film and photographic works shown at Grimsby Minster and  Hull Minster,  June – September 2022.
 Watch a short tour around the show at Hull Minster 
Researched and developed since 2018 and shown in 2022, these works examine the ever-changing borderlines, transience and continual ebb and flow of the Humber's estuarine environment and reflect upon a terrain of interventions, one that is saturated with histories and memories. These historical traces and memories are rooted within this particular place, and so become the physical and psychological sediment that defines our view of place.
The landscape bordering the Humber estuary evidences transience, liminality, and migration; lives lived there, defined by, or lost to the water. Water is the shapeshifter that mediates all this flux, moving, preserving, and mirroring the world, an image of both life and death, and in its varied states, both maternal and masculine, but above all, a potent and poetic image.
For this commission, film, photography, the physics of catoptrics and audio were used to create works whose aim is to enhance the sense of place experienced by people who live alongside this major waterway. The moving image works juxtapose found film with new image fragments and still image sequences; a collaged layering which enables the material to take on new roles and significance. The layering of time, reflected in the tactile rootedness of silt and sand is engendered by way of a narrative that is non-linear and associative. The work is contemplation and visualisation of a psycho-geographic sense of place, and how the recognition of place enables people to identify this deep and dynamic rootedness. If you live for long in an area, then the area inevitably begins to live within you.
This work was commissioned by Our Big Picture and funded by the Arts Council England. The six show components are;
Confluence
3-screen film work with audio      10-minute duration 

Confluence examines the dynamic flow of the Humber, following the paths of the major rivers that feed into the estuary, and the nature and power of water flow in and out of the estuary. Still Image sequences, audio, infra-red aerial photography (LiDAR), archival and recent film and images, navigational maps and film are used to capture this landscape's mutable nature, where ever-changing conditions and each succeeding wave of human habitation have left their trace.  
Read more & see image slideshow
Watch a clip from film on Vimeo
House of Breath –
Guiding Lights
Single screen film with audio      10-minute duration
 This film, rear-projected onto an opaque drafting film in the Minsters, depicts a walk, starting at an inland grass ridge and finishing at the sea's edge. This journey through the landscape is intercut with the associated engendered memory. The 'collaged' film refers to an inner psycho-geographic journey through different spaces to the light wide-open sea, reflecting the theme of flow; breath into and from the lungs, and wind, evidenced by what it moves.
Read more and see image slideshow
Watch a clip from the film on Vimeo
Ice House
Single-screen film with audio 14-minute duration
The Ice House is a 14-minute single-screen film work exploring how the sea changes and shapes the individuals that work within it.  The film shows only the hands of participants, belonging to people who manually work or worked in the Humber area, both filleters and predominantly fishermen who spent much of their life deep water fishing in the Baltic. These fishermen, working all hours in the deep waters off the coast of Iceland experienced what the majority do not; all manner of conditions including gales, hurricanes, storms and calm.
Read more and see image slideshow
Watch a clip from this film on Vimeo
Sunk Island
5-screen moving image installation   12:46 minute duration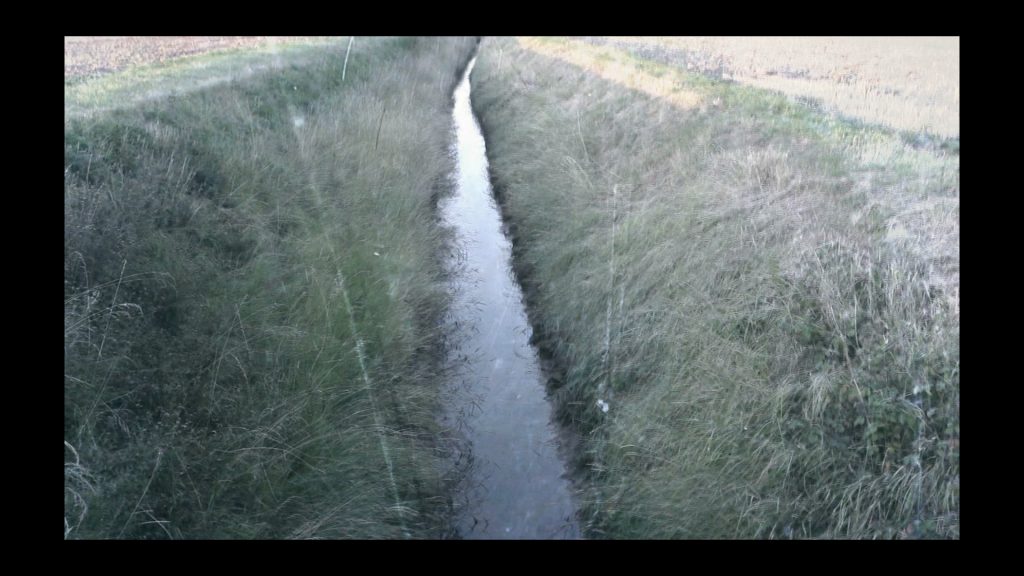 Sunk Island is a series of monitors, with a central larger screen showing a 12-minute film, surrounded by 4 smaller screens showing shorter film loops, and predominantly filmed in and around Sunk Island over the course of 3 years. This land is a wonder of historically engineered land, reclaimed from the water of the Humber estuary, and is a markedly flat territory, filled with reed beds, waterways and field after field of wheat.
Read more and see image slideshow
Watch a clip from central monitor film on Vimeo
Unknown Men & Unknown Women
Set of 8 constructions; each contains catoptric (distorted planar) photographic image, with mirrored sphere in base of cylinder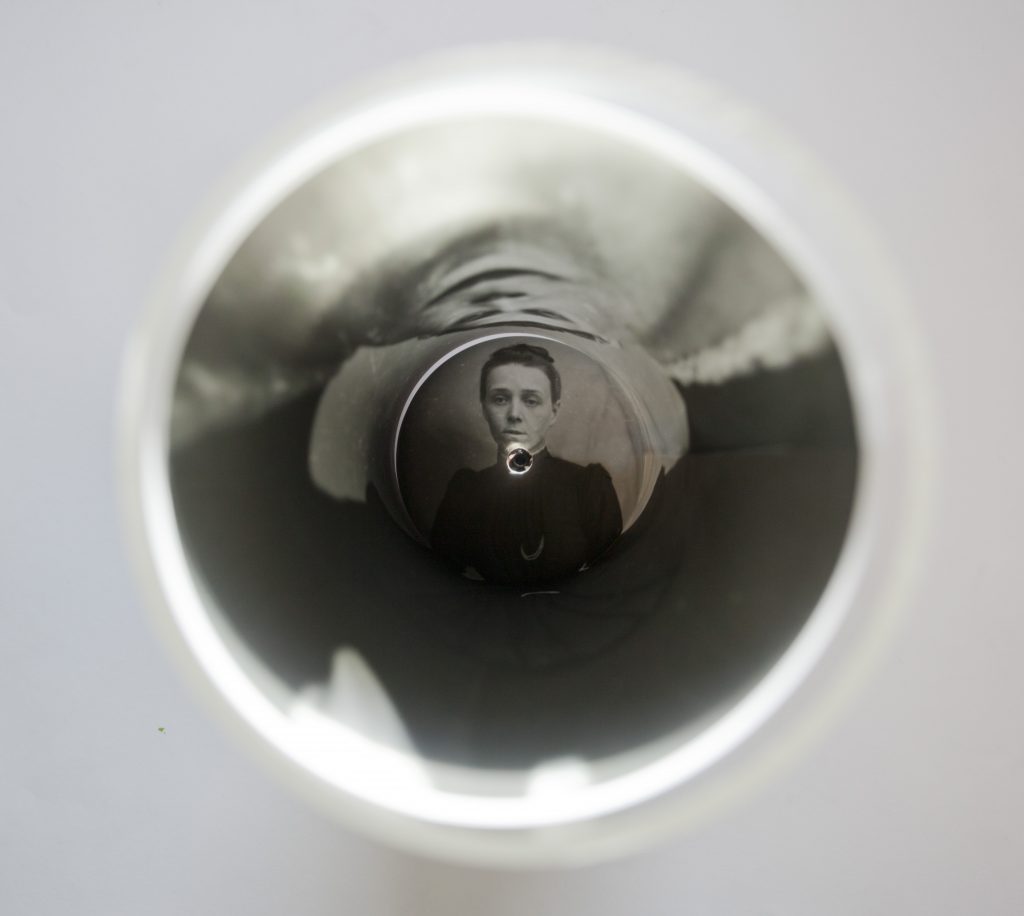 These catoptric photographic images line the inside of the tube,  becoming perfectly reformed when reflected in a mirrored globe at a cylinder's base. They are named after a series of boxes full of images in Grimsby Library archives labelled 'Unknown women' and 'Unknown men'.
Read more and see image slideshow
Shape of Water
Four photographic images taken from the series 
Shape of Water is a photographic image series exploring aspects of the house, storm, islands and liminal areas. The four images are printed on canvas and suspended by wire in the Minsters. The 'landscapes' are constructed from seeds of bulrushes and reeds found growing along the Humber river and reed beds.
Read more and see image slideshow
---
Magnetic Atlas
This body of  work was commissioned by 20-21 Visual arts centre and funded by the Arts Council. First shown at St Johns church, Scunthorpe, UK  in January 2014, the site specific film installations Ordinalia, Huldra and The Sleeper Falls were made for the chancel and bell tower of the church. Charged Vessels & Infinite Bodies photographic series were grouped in and around the chancel and bell tower. Read more about each component below. Magnetic Atlas was shown at  Sheffield Institute of Arts  (SIA) at Sheffield Hallam University in 2016 and toured to Grimsby Minster in Easter 2017. It was also shown at Comar Arts Centre, An Tobar, Scotland in 2018.
Ordinalia
12 ships lanterns and railway lamps were free hung into the Chancel of St Johns Church. Three central lanterns play a synchronised film triptych exploring themes from the apocryphal miracle play 'Ordinalia'. Fragments of film portraying environments which hold a sense of the miraculous and symbolic surround them.
Huldra
A 3 screen synchronised film exploring the theme of the guiding light and what can occur when we loose our way or are mislead by an illusion. The film takes its title from the Scandinavian folk tale Huldra, she is a spirit that dwells in the winter woods and leads her victims deep into the forest until they are lost forever.
The Sleeper Falls
This single screen film made for and projected into the bell tower of St Johns church. Cine film, still sequences and digital footage are interwoven and layered. In the work we see a dreamer move through the forest and seemingly float through a vortex of brick and trees to the top of the tower to retrieve an egg from a nest.
Charged Vessels & Infinite Bodies
This series of photographic images done from 2006-2010 evolved from a residency at the Baaken Museum and Library of Electricity in Minneapolis in 2006. They were shown as part of the Magnetic Atlas site specific installation at St Johns Church 20-21 Visual Arts Centre in Scunthorpe in 2014.
See images of Magnetic Atlas installation at Sheffield Institute of Arts Gallery 2016
See film of Magnetic Atlas installation at St Johns Church, 20-21 Arts Centre
---
Hineingrabe
Commissioned as part of the Rossendale 'Valley of Stone' project, this film was screened at Horse and Bamboo Theatre, Waterfoot, in December 2008.
---
Duke Bluebeard's Castle
Comissioned by Opera North for the production of Bartock's Duke Bluebeard's Castle in 2005, and shown at Leeds City Hall for the duration of the run and associated publication. 
---
Resurrection Stories
Commissioned by the Djanogly Gallery Nottingham 2005
This major exhibition at the Djanogly Gallery consisted of a three-screen video in the main gallery space, and an installation of 5 still image projections in the second smaller gallery.
---
States of Matter
Commissioned by the Folly Gallery, Lancaster 2004
This exhibition consisted of a series of eight photographic transparencies Electro-Light, and the video installation The Almond Tree Part ii.
---
Eye of Heaven
This series of photographic works consist of three parts. Each part contains six images. Part i was shown at The Graves Art gallery in 2002 as part of a group show, 'Surface'.  All three parts were later shown at the MAC in Birmingham. These six large digital prints each measure 1m x 1.2 m.
---
Magic,Murder and the Weather
Commissioned by Leeds Metropolitan University Gallery 2001
The installation 'Magic Murder and the Weather' was made for the upstairs gallery space at Leeds Metropolitan University gallery in 2001 and has subsequently toured to several venues in the UK. It's concerned with the portrayal and interpretation of three folk tales; 'Ashputtel', 'Bluebeard', and 'What Came of Picking Jessamine'. Three sets of nine images are presented as backlit photographic colour transparencies. Within each of these transparencies are smaller transparent photographic inset images and this layering of image aids the intention of an implied narrative unfolding on a stage.
---
Vessel
Commissioned by Photo 98, as part of the Year of the Photographic and Digital Image, and sited at the Mappin Art Gallery in Sheffield. Tour to Welcome Trust Gallery, London as part of Truth and Beauty, touring to Porto and Lisbon, Portugal, Metro, Derby and Wollaton Park, Nottingham.
This installation utilises the photographic medium and processes combined with assemblage and collage. Sharply defined, richly coloured photographs are presented on back illuminated transparencies and free hung end to end down the centre of the gallery to create an illuminated pathway. This escorts the viewer along the darkened gallery, as if through a narrative but one without a beginning or an end.
---
The Twelve Keys
Commissioned by and shown at the Crossley Gallery, Dean Clough, Halifax.
In this installation, Twelve window frames from Truro Works, an old cutlery factory are free-hung in front of photographic transparencies, objects such as scissors, keys and hair, which in turn are hung in front of individual lights, used to illuminate, cast shadows and draw the viewers attention to specific points in the work. The colour transparencies vary in size and are sandwiched between glass, akin to magic lantern slides. The light is instrumental in creating the effect and atmosphere of the installation, bringing some objects sharply into focus and distorting others – affecting a metamorphosis which reflects the nature of both the objects used and the content of the transparency images.
---
Green Earth's End
This installation was commissioned by The Walsall Art Gallery 1994 and toured to Leeds Met Gallery in 1995. In the space were three sets of triptychs of photographic panels containing life-size images of a male and female in tall rye grass. (Holland grew the rye grass and it was left to reach its maximum height before being harvested) Behind these were encaustic (coloured and melted beeswax) panels which added colour to the panels and the heat from the back lighting added a further smell of beeswax and honey. There were also three sets of triptychs presented on light boxes which contained Ilfochrome transparencies; one set of figures, one of frogs and one of snakes. A blue-toned triptych from this series was hung in St George Chapel of Sheffield Cathedral in 1994.
---
Mortal Remains
Commissioned by the Untitled Gallery (now Site Gallery) Sheffield 1992
This exhibition was Holland's first major solo show, occupying all four of the gallery's exhibition spaces. Collage pieces were shown alongside photographic work, and where, photography played an increasingly important part.
This show also included the Installation Three Cornered House